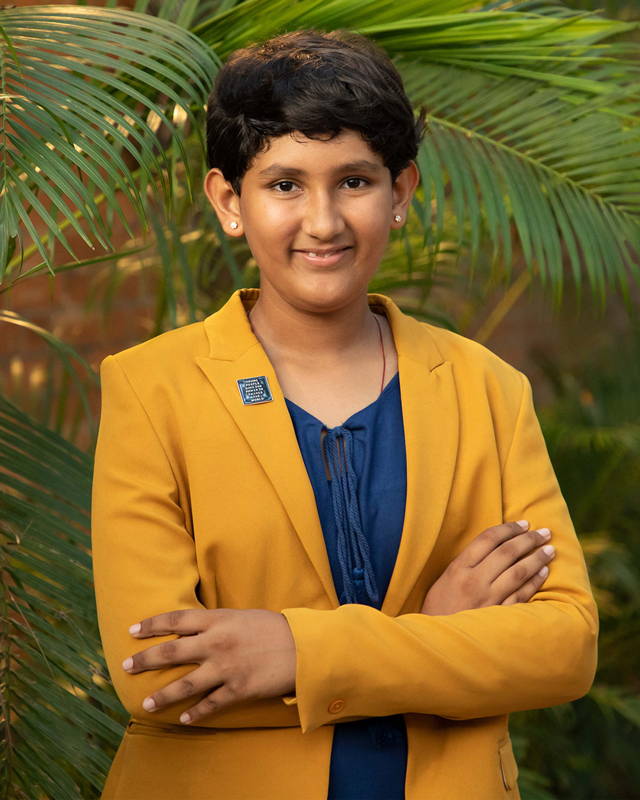 We are thrilled to introduce the youngest 3DuxUniversity Faculty team member, an environmental activist and social entrepreneur at the age of 10!
Prasiddhi and the 3DuxDesign team are partnering on a variety of missions including the Cardboard-2-Green Gold Challenge, which can be found on both the 3DuxDesign project page and the upcoming Green
Pillar Initiative's
International Climate Challenge, launching April 28th, 2023.
3DuxDesign president, Marci Klein M.D. will also be featured as a panel expert for the Prashidhhi Foundation's newest initiative.
Prasiddhi, young social entrepreneur, is a true inspiration for countless kids and people of all age groups. At an age when kids are busy imbibing the basics of life, she is leading global environmental initiatives.
Prasiddhi Singh, Age 10, Prime Minister National Child Awardee (Highest Civilian Honor Under 18 years). She is the founder of the Prasiddhi Forest Foundation. She is the youngest Fruit Forest Creator of India-by-India book of Records. Prasiddhi is Brand Ambassador for the Nationwide Girl literacy campaign – "Beti Bachao Beti Padhao" by Tamil Nadu Government. She has also been appointed as Child Ambassador of Green Tamil Nadu Mission. Prasiddhi has been featured in Wikipedia for her plantation program & environmental contribution.
Prasiddhi has planted over 1Lac trees and created several Prasiddhi micro forests in government schools, colleges, Panchayat & farmer's land. Prasiddhi is an advocate of biodiversity, she has created her own eco army of 36,000+ eco-warriors spread across the globe through 550+ (online & in-person) workshops on topics like climate change, circular economy, sustainability, 3Rs and how to be an impact creator to students, corporates, villagers & farmers successfully. Two times TEDx speaker, Prasiddhi is also the youngest keynote speaker of Harvard Model United Nations, India. Now she is working on Web3 Climate technology & Nature Based Solutions.
Awards /Recognition:
• The Diana Award - U.K (Highest & Prestigious global accolade for social Action & Humanitarian efforts).
• Zee TV Born to Shine Award.
• The Global Child Prodigy Award, Dubai.
• TV18 Byju's Young Genius Award
• Finalist "Indian of The Year" CNN News18.
• Eco Hero Awards, California USA.
• Earth Day Network Rising star (USA).
• Global Sustainability Award by GCPIT
• Young Changemaker by Cartoon Network- Warner's Brothers.
Prasiddhi has also initiated her G3 PROJECT - (Generate your oxygen, Grow your own food, Gift your community) with an aim to widespread environment awareness to every school & every student of India.