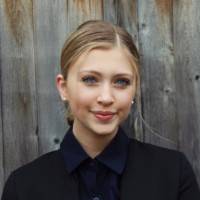 3DuxDesign Fellow, Marketing and Analytics
Student at Washington University in St. Louis, Olin Business School
Colette prides herself on her ability to synthesize the people and the pragmatic.As a student majoring in entrepreneurship and operations & supply chain management, she understands the people flow and the process flow of businesses, giving her a holistic approach to in-house strategy and consulting. With an attuned business acumen and a big-picture approach, she grounds her work in current business affairs.
She is an independent self-manager, ready to achieve tangible, high-impact results for clients. Her work is data-driven and creative, which results in clear profits and innovative strategies. As both a leader and a team player, she invites transparent criticism in a quest to promote personal professional development.
Colette doesn't just define herself as a businesswoman; she is also a feminist, environmentalist, singer, actress, filmmaker, and enjoys working with children. Her interest in strategy and her desire to get involved in creative projects that enable her to have a positive social impact drew her to 3DuxDesign. As 3DuxDesign's marketing and analytics intern, she is looking to extensively research the target market's tendencies and preferences, the paint-points of the current marketing strategies, explore partnerships, and implement new marketing strategies.