Learning from home or via Zoom isn't easy on any of us. It seems almost impossible to give or get a meaningful education these days without being glued to a computer or tablet, and suffice it to say, the isolation takes a toll on all of our mental health.
3DuxDesign is all about lifting creativity away from the screen. Our tangible modeling sets keep kids fresh. They provide those important breaks in the day in a way that's as fun as it is educational!
Last month, we sent a our Go-Pack out to Luisa, a stay-at-home mom and home schooler who also happens to have an MA and BA in education, a PhD in Chemistry and in all of her free time, creates beautiful STEM-based lesson plans for early learning which are available on her website, Tinyn3rds.
Luisa and her two little ones used 3DuxDesign Go-Pack to craft their own "Emotion Checker", a fun and engaging craft that uses play therapy while helping kids find and name the emotions they are feeling. By creating a rotating face with different expressions along with adjustable written expression cards, children use a combination of verbal and non-verbal ways to share their emotions.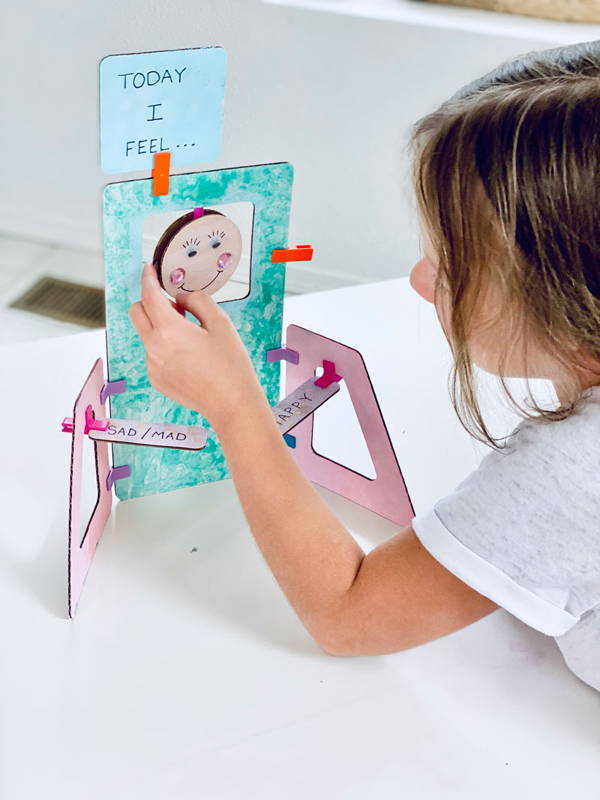 Luisa and her kids didn't stop there...
"We've made robots, bugs, houses, and people. We've used the clips for big cardboard creations (this is a little more difficult) and small creations (all the kids 3+ easily made these). With all the creating we've done, we still aren't tired of creating, taking apart, and recreating something new. Each piece is white on one side and brown on the other. While the creations look awesome as is with just clips and cardboard, embellishing and coloring the cardboard pieces is also super fun!"

Make a Shape Sorter
"In addition to all the artistic pieces that have been created, we also created a shape sorting activity. We created a cube then used one of the cardboard squares with one circle and one rectangle for sorting. The goal of the activity was sorting the round objects and the rectangular objects into the correct cutout."
Learn more about what Luisa and her little students did with 3Dux materials here.