Looking to inspire your grades 3-6 students to explore exciting careers in STEM? Look no further! 3DuxDesign Booklet-N-Build Set is the perfect product!
Each team of students will receive a supply set with a booklet featuring a unique STEM profession with engaging descriptions of what the career involves and what kinds of skills it requires. After reading, teams will use their 3DuxDesign modeling set to tackle a fun, hands-on challenge to give them a taste of what it's like to work in that field. Each project includes a group presentation so teams can share their knowledge and showcase their creations.
Challenges featured include agricultural engineering, civil engineering, paleontology, computer science, electrical engineering, and animation technology,. Plus your aspiring STEM-Stars will all get a bonus challenge, inspired by the teen inventors of the 3DuxDesign modeling system!
This product is perfect for teachers looking to supplement their STEM curriculum with real-world examples of exciting careers that their students could pursue in the future. By using their creativity and critical thinking skills to tackle these challenges, students will gain a deeper understanding of what it takes to succeed in STEM careers and be inspired to pursue their passions. So why wait? Order your 3DuxDesign Booklet-N-Build Challenges today and start exploring the amazing world of STEM!
warning - choking hazard, ages 3+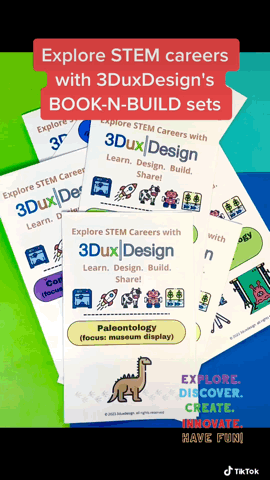 See Examples of Student Projects